16 Dec 2009

When I met Wifey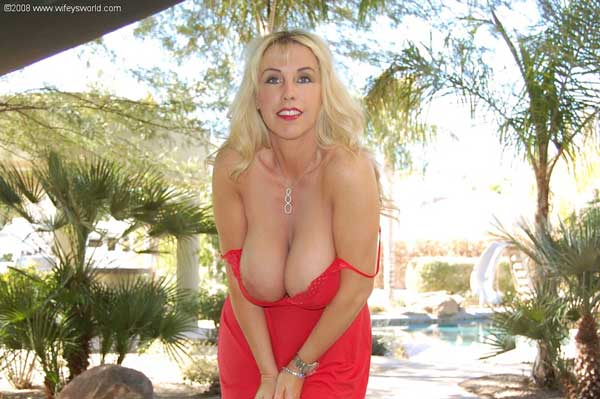 Wifey in her red dress - courtesy of Wifey's World

When I first saw Wifey on Wifey's World, it was a number of years ago when I first got hooked up with the internet, and she was one of the first moments of happiness the information super highway brought to my lonely bedroom!


One of the first things I typed in was something like "download big tit porn" or something like that. Now, obviously I was bombarded by a shit load of websites advertising all the biggest and brightest big tit sites around, but a few pages in (and I don't know why I went a few pages in) I found one of those file sharing programmes; Kazaa I think it was, or something like that. I forgot all about the big tit porn websites and concentrated on downloading this programme in the hope that I could download a load of porn from someone else's computer a lot easier without becoming a member.
In my first search results there is was, something like: Big tit housewife sucks cock. Well you can imagine my delight at seeing this, so I downloaded it as quickly as my poor old dial-up modem would allow. Within days I had the download completed, and when I clicked on the mpeg, there she was, the most beautiful milf in the world; the one and the only Wifey!
It was a short clip, but it lasted me for around three months, during which time I beat myself off every day, at least three times a day! She has this certain something that is uninhibited and yet still quite sensually mysterious. Let's face it, if you haven't heard of Wifey then you haven't heard of big tits and you couldn't possibly have heard of the term milf! I would quite literally give my right (or left) testicle to get the opportunity to bust a nut over this hot milf's gorgeous boobs.
Let me tell you folks, when you've seen
Wifey give a POV blowjob
then you'll never go anywhere else for your porno.
Wifey's World
rules! I don't need to tell you any more, check her out for yourself.
Read an independent honest review of
Wifeys World
here.
Posted by Les