07 Jul 2010

Cheating Wives and the Cuckold Husband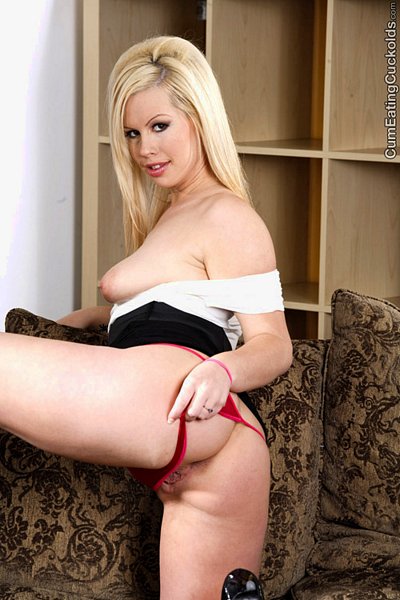 "Her husband will do anything she wants" - Photo courtesy of Cum Eating Cuckolds
After I ran across a site called Cum Eating Cuckolds, I got a strange urge to talk about cuckolding. I don't want to talk about the origin of the term, or its proper use. No, I want to talk about the psychology behind the term and why guys would allow their wives get stuffed and fucked with another man's cock. So if your ready, let's get it on.
Before I talk about the psychology of cuckolding, I have to make sure that everyone is aware of what the term means. Cuckolding is simply the act of a woman cheating on her husband, with or without his knowledge. A cuckhold is a married man that is cheated on by his wife. Sometimes the married man is referred to as a horned male. A married many who accepts the fact that his wife is a cheating whore is often called a "tamed horn". The cheating wife is usually referred to as either a hot wife or a cuckoldress.
The guys on Cum Eating Cuckolds are very aware of what their wives are doing. In fact, the guys not only know what their wives are doing, but are also forced to participate in the act by their wives. These sexy ladies bring strange guys home and fuck until they are sore. They suck their cocks, ride their rods and even let them fuck them in the ass. And the guys are forced to watch and to partake in the action. Hell, some of the ladies even force their husbands to suck the other guy's cock. In one episode, the wife forced her husband to suck this dude's cock while she pegged him in the ass with a strap-on dildo. Talk about humiliation.
I know what you are thinking. Why would these guys not only allow this to happen, but why would they participate? Well, it can be broken down into simple human psychology. You see, when a man knows his woman is getting fucked by another man, then it stimulates arousal centers in his brain. He wants to fuck the woman immediately after the invading cock and will go to great lengths to do so. This can be explained under the principles of "sperm competition". A principle that can be seen on Cum Eating Cuckolds, and one that I am now going to explain.
Sperm competition is exactly what the name implies. The male wants to make sure that his sperm takes root in his woman's pussy and not the invading sperm. It is the natural urge to make sure that your blood-line continues. In fact, the guy will often fuck his wife harder and faster in an attempt to drive out the invading sperm. This impulse can be so intense that a guy who normally can't get it up multiple times for sex, will quickly develop that very ability.
Of course, this tendency only results in the increased sexual satisfication of the woman. Not only is she getting extra sex from her new partner, but she will also compel her husband to up his sexual game. This results in more orgasms for the woman, and as a result more fun.
The results of this principle can be seen on Cum Eating Cuckolds. These guys do what ever their wives want. If she wants him to suck the other guys cock, then he will do it. If she wants him to bend over and get fucked by a strap-on, then he's up for that as well. It may be fucked up, but it makes for some really intense and enjoyable porn. Check out Cum Eating Cuckolds and see what I mean.
Posted by David