09 Apr 2010

Her First Double Penetration and certainly not her last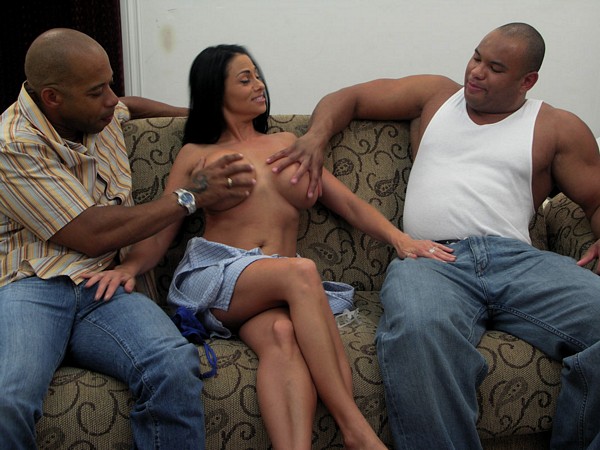 "Double the dicks..double the pleasure" - photo courtesy of Her First DP
Let's face it. There are some ladies who just can't get enough cock. For these babes, one cock will never do. So, what's a horny babe to do? Well, she can always get fucked in some hot, double penetration action like what can be found on Her First DP.
I am sure that most of us here have seen our fair share of double penetration porn. A chick gets a cock shoved in her ass while another cock penetrates her pussy. It is pretty standard stuff. But, Her First DP puts a spin on it that you just can't see everywhere. These chicks are not only fucking two cocks, but they are fucking two cocks for the first time.
Many of you will wonder why that makes it so great. It is because of the surprise that comes over these ladies' faces. On most DP sites, the girls have been getting fucked by multiple dicks for a long time. They have it down to a science. It almost becomes cookie cutter fucking. While I do enjoy a girl who is good at her line of work, sometimes I like to see a babe experience something for the first time. The look of discomfort that turns into surprise that then turns into pleasure is something that will get me so hard I could balance my laptop off the end of my dick.
Another thing that I like about this site is that they are not afraid to take chances. I visited the site and expected to see one chick two dicks in every scene. But, the creators of the site made a movie that through me for a loop. In one scene there was one guy and two girls. Now, I thought to myself "hey this is not keeping in the genre". And than I watched the movie. The chick was getting her pussy fucked by the guy, while the other chick put on a strap on and fucked her tight behind. Now that's an interesting twist on the whole genre. The site also has some very good direction. The cameramen know what they are doing when they film a scene. The go from the wide angle up to the tight shots that allow you to see the cocks doing their dirty work. Of course, they are not going to be given an Oscar, but in my opinion they should. This is some really great work and is worth some kind of award.
As I have said in the past, I am a true fan of double penetrations. There is something so exciting and lurid about them that it really gets my blood flowing. And when a site like this comes along and mixes things up a bit than it can only be a good thing. If you want to see girls getting penetrated at both ends for the first time than all you have to do is head on over to Her First DP. This is a site that is sure to give you a kick, and trust me I think you'll like it.
Posted by David