04 Jun 2011

Messy Lesbian Porn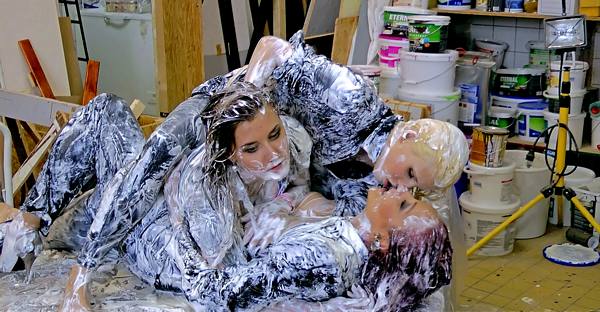 "I like my women to be wet and messy" - Photo courtesy of All Wam
Since I have talked about a number of lesbian sub-genres, I have decided that I would keep the ball rolling and talk about an incredible lesbian porn site called All Wam. This is porn site that takes the wet and messy porn genre and combines it with some incredible lesbian sex. Talk about a great combination.
Wet and messy porn has been around for quite a long time. This genre, also called sploshing, involves the participants coating each others bodies in a variety of different substances. These substances include mud, oil, various confectionery items and even shaving cream. In this genre, sex takes a backseat to the tactile impressions of the act. This genre encompasses a variety of sub-genres such as food fetishes and lotion play. While I agree that this genre may not suit everyone's tastes, it does provide a unique and very sensual experience.
All Wam takes this genre and cranks it up a bit by including some very hot lesbian action into the fold. Beautiful women cover each others warm and willing bodies in a variety of different substances and occasionally treat each other to some really steamy hardcore lesbian. Wet and messy hardcore lesbian sex, that is.
When I first visited All Wam, I was not very well versed in the wet and messy genre, but I decided to take a look at it because I am very much interested in the lesbian genre. In fact, the lesbian genre has to be one of my favorite genres out there and it certainly does the trick when I am looking for adult entertainment. What I didn't know when I visited this site, however was how brilliant it would be to mix these two seemingly separate genres. And I must say that I was quite impressed.
Mixing the wet and messy genre with the lesbian genre is surprisingly erotic, even for someone who is very new to the prior genre. I really loved watching these women coat themselves in various substances. There is just something so fucking sensual about it. Even in the scenes that don't end up with proper lesbian fucking, it was still hot as hell. Plus, you just can't discount the value of viewing a truly unique genre. It is a nice change of pace now and again.
So if your looking for a porn genre that is truly unique and is also sensual at the same time, then you might want to check out All Wam. Though I was initially skeptical about how horny this site was going to make me, I now consider myself to be a true believer. This is a porn site that really has created a recipe for great porn by combining two very distinct genres. It is at least worth a look-see. Until next time, be safe out there and make sure that your porn is nice and messy. After all, who really likes their porn to be clean?
Posted by David