14 Nov 2011

Why We Love Lesbian Porn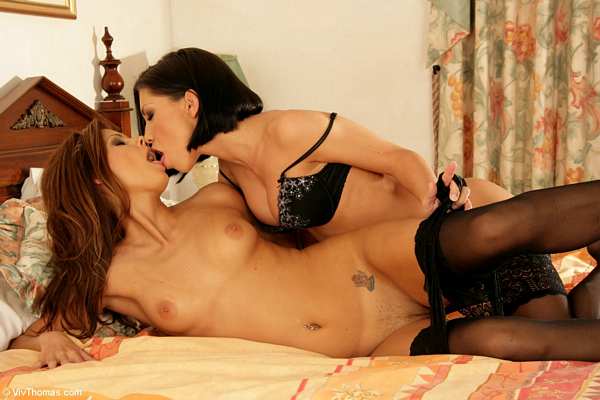 "That is a lot of holes ready for us to fill" - Photo Courtesy of Club Pink Velvet
What is it about lesbians that make the average red blooded male hornier than a rabbit on boner pills? Well, we will speculate about that in a moment, but first I want to introduce a lesbian site that really made me hornier than usual. This site was called Club Pink Velvet.
For those of you who haven't had the opportunity to visit Club Pink Velvet let me tell you a little bit about it. This site features really hot lipstick lesbians in some really hardcore action. These ladies are not only stunning, but they are fucking horny as hell. And that is evidenced by the fact that these ladies are really quick to get down and dirty with each other. When you visit this site you will get to see these ladies kiss and fondle each other, but the real meat and potatoes of this site is their fucking. These ladies finger bang each other, lick each others wet pussies and do just about everything else you would imagine a lesbian to do with her lover.
Once I visited this site I knew it was hot, but it took me a second to figure out why it was so hot. It all has to do with the porn genius of Viv Thomas. Viv Thomas is a South African born British porn producer. He has filmed and produced a number of genres, such as the foot fetish genre, but his real specialty is lesbian porn and he has a ton of experience filming it. During the course of his lifetime he must have filmed thousands of lesbians fucking. And it is this substantial amount of experience that he brings to Club Pink Velvet. And it shows with each episode.
I am afraid I digress, however. Let's get back to my original question. What makes lesbian porn so special to most men? Well, it is quite simple, my friends. It all has to do with the fact that we imagine ourselves in the action. Yes, when we see two lesbians fucking we imagine having the opportunity to slip into the action. After all, when you have two women fucking you have several things going for you. You have four breasts, two pussies, two mouths and two asses available to you. Who wouldn't get the idea to slip into the action and maybe fall into a hole or two? Of course, the chances of being able to do that with lesbians in real life is pretty slim. But on a porn site where are imaginations are allowed to run free, anything is possible. Anything.
Most of us don't even realize that this thought of being able to slip into the action is on our brains. But it is, deep in our subconscious. And that is what draws most of us to lesbian porn and why so many of us clamor for lesbian porn every chance we get. If you don't believe me, then visit Club Pink Velvet and watch the ladies fuck. See what comes to your mind and see if you can isolate what makes it so hot. You might just surprise yourself. Until next time, be safe out there and remember that double the pussy is always double the fun.
Posted by David