30 Nov 2008

40 Something Mag - MILF Action At Its Best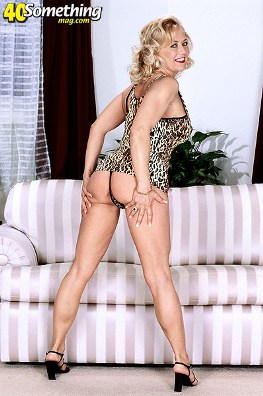 "No, the plant is not eating my tits, thank you."
Print magazines have something of a mixed time when it comes to their incarnations on the internet. Some of the biggest companies are the ones who have the hardest time, it seems, but the smaller guys don't have as much trouble.
So whilst the likes of Playboy have continually struggled to bring the dominance of their publications to a dominance of the online adult market, publications such as 40 Something, through their online arm 40SomethingMag, have not had such a struggle.
This outstanding MILF-based publication has been around for quite some time now, as has its website, making 40Something Mag one of the best specialist mature sites around. And it's got the balance just about right as well.
It mixes a perfect balance of the MILFs from its magazine and finding new mature talent for exclusive website shoots, meaning that subscribers should really find enough unseen content to want to subscribe to both arms of 40 Something.
It also has the mixture right in many other ways as well. The mixture of action is superb as well with a great collection of MILF hardcore and masturbation action sharing some of the space. It does exactly what such a site should be doing.
It also actually makes sure that its MILFs are actually over the age is says they are! It might seem obvious, but so many websites actually completely fail to adhere to the pretty simple guidelines they set themselves.
What makes 40SomethingMag even more appealing right now is the fact that it even has a special deal attached to it through us now - just $19.95 per month instead of $29.95!
Posted by Steve